For those who are more cost-conscious, the average cost of a retaining wall is $19 per square foot.
A retaining wall protects the earthen embankment from the neighbouring subsoil, it prevents erosion and creates usable level areas.
The most widely used retaining walls are made of stone, wood, and stone because of their affordability, availability, and simplicity of installation.
A retaining wall typically costs $23 per square foot to build, Keeping wall prices at the high-end averages $50 per square foot.
Average Retaining Wall Cost:
Material cost per square foot.
The average cost is $23.
The highest cost is $50.
The lowest cost is $20.
What is the Retaining Wall Cost Per Square Foot?
Comparing the price of various retaining wall materials based on square footage is similar to other building materials like pavers or roofing.
You can get the total square footage of a wall by multiplying its length by its height.
The height of the retaining wall has a significant impact on how much it will cost overall.
High retaining walls become significantly more expensive, especially once they exceed inspection and permit limits.
A retaining wall that is 50 feet long and two feet high differs greatly from one that is 20 feet long but five feet high.
Despite having 100 square feet on each side, the first wall is so low that virtually any material including common pressure-treated wood can be used.
For the second wall, more durable materials are needed like bulk retaining wall blocks, and design plans may also need to be reviewed by a structural engineer.
Cost of Retaining Walls Depends on the Material:
The material used for the retaining wall plays a dual role in determining the ultimate cost.
Only the material cost comes first, while location, time of year, market conditions, and regional building codes all affect its cost.
Natural stone is less expensive in the Pacific Northwest, Northwest, and Northeast parts of the United States because those are the regions where it is most frequently found.
Second, the type of material affects a variety of other factors including construction techniques, the need for deep footing, labour requirements, and more.
Quarries that require cranes may also require a fee for crane rental or transportation management.
Railroad ties, which are frequently contaminated with toxic creosote require special permits or are possibly prohibited in some places.
Natural stone must be transported at excessive distances because it is not abundant in the Midwest and Southwest.
Additionally, fewer workers and contractors in such areas are familiar with the product.
Blocks for Retaining Walls: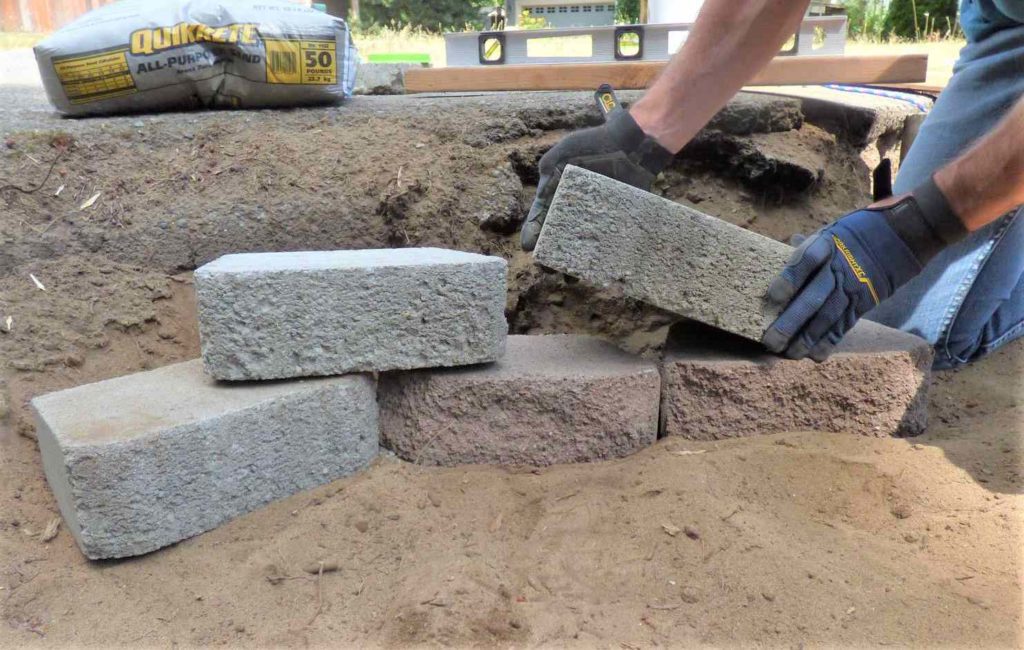 It will cost an average of $16 per square foot to have a professional install retaining block walls.
Nothing extra for a simple, under-four-foot, 100-square-foot retaining wall, which works out to $1,600.
On the top end of the scale, huge 16-inch decorative blocks and extras like cap pavers and wall curves can cost up to $30 per square foot.
Bricks for retaining walls usually cost $23 per square foot.
Natural stone retaining walls can range in price from $25 to $75 per square foot depending on the stone chosen and the distance between the property and the supplier or quarry.
Retaining walls made of natural stone typically cost $50 per square foot.
Cost of Retaining Wall Block:
One of the widely used materials for constructing retaining walls is retaining wall block.
It is one of the few materials made for retaining walls due to the front lip and the shape of the back.
Apart from the occasional cleaning, retaining wall bricks don't require much care.
Moreover, the stone components used to make retaining wall blocks are easy to find and cheap to manufacture.
Since retaining wall blocks are so heavy, shipping is the biggest expense.
Larger sizes of decorative retaining wall blocks cost more than smaller sizes, they can be built higher and hold more earth.
Additionally, they may have decorative textures on their faces.
Most of the total cost of a retaining wall is made up of the cost of its blocks.
A pallet of decorative 17-inch blocks costs $12 for about 35 square feet of wall face and costs about $570.
Plain grey, 17-inch concrete retaining wall blocks can be purchased for as little as $3.40 per block, which is four times less expensive than ornamental blocks.
Wall Labour Cost:
The cost of labour to build a retaining wall makes up the other half of the cost equation, which is sometimes the most significant.
In most cases, contractors will give you a quote that takes labour into account, the price of labour to create a retaining wall is from $50 to $75 per hour.
An hourly consultation with a structural engineer can cost between $100 and $200.
Wall construction labour expenses vary depending on the style of the wall, the season, and the labour market.
Some unskilled and semi-skilled personnel may be needed for lugging blocks, carting gravel, and digging footers for masonry retaining walls and wood retaining walls.
Projects for building wood retaining walls are frequently led by professional employees who can manage less experienced, less expensive personnel.
Both an art and a trade, constructing secure and attractive rockery walls is best left in the hands of competent, more highly compensated employees.
Wood Retaining Walls: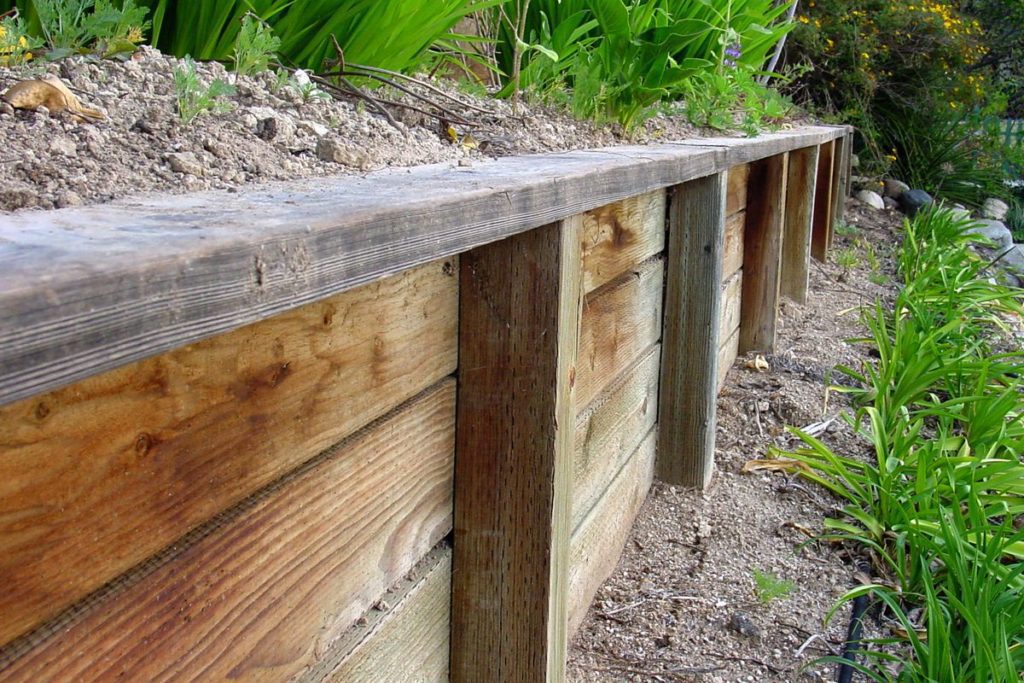 For professionally erected wood retaining walls, your budget should be between $16 and $28 per square foot.
You can get the price down to as little as $10 per square foot by completing the work yourself.
Wood retaining walls cost $19 per square foot.
The retaining walls are made of natural stone.
Best Time to Build a Retaining Wall:
Install a retaining wall when a slope is encroaching on your property and you need to make room for a patio, pool, extension, or any other site that requires flat, level land.
Soil slopes greater than 35 degrees must be maintained as they can become unstable and unsafe.
Retaining walls can be constructed in practically every season and environment.
Digging below the frost line can be challenging if the ground is frozen.
How to Save Money on Retaining Walls?
Budgeting can be difficult to sustain wall costs, and additional costs associated with the project can add up quickly.
Despite the temptation for homeowners to look for a cheap cost, inexpensive retaining wall designs, there are other ways to save money without sacrificing the things you want.
Get multiple predictions:
Get at least three estimates from trusted local contractors.
Recycle your materials:
Some contractors offer recycled concrete from other areas.
Before tearing down any existing retaining walls on your property, check if any materials can be recycled.
Combine projects:
If you have multiple backyard renovation projects in mind, schedule them all with the same contractor to see if you can get a deal.
Stick to your budget:
While it's tempting to choose the most expensive materials, look for less expensive materials that complement both function and form.
Negotiate:
To help you stay within your budget, many businesses offer some wiggle room on their installation prices.
Conclusion:
Both your needs and your financial cost play a role in the type of retaining wall you choose.
A safe retaining wall is necessary for any type of use, especially if you need to replace a retaining wall that is collapsing or if a slope is dangerously encroaching on your land.
But if you're doing an alternative home improvement project, you'll need to make a choice based on how the wall looks and your budget.
Even DIYers can build walls if they are low.
Section Under: Retaining Walls