A retaining wall is a structure designed to confine or withstand lateral pressure from the soil.
The lateral pressure includes the earth filling, liquid pressure, sand, and other granular elements that are behind the retaining wall structure.
Various shapes and purposes are served by these wall constructions.
What is a Retaining Wall?
Retaining walls are rigid wall structures that support soil on both sides and maintain the ground's surface at different heights.
In the absence of retaining wall support, the soil would tend to migrate downward until it took on its natural, stable shape.
Due to the soil's shear strength, it can no longer be supported at the steeper slope and pulls on the wall.
Design of Retaining Wall:
1. Identify the location of the retaining wall:
Minimize backfilling and soil extraction.
Increase drainage and grading efficiency.
Think of the site's current features.
2. Establish the height and geometry of the retaining wall:
Determine the height of the retaining wall at its highest point.
Determine the incline above and below the wall.
Analyze traffic or vehicular surcharges caused by construction.
Choose the proper wall setback or batter.
Setback for retaining walls.
Analyse the structural needs.
3. Determine the structural needs:
Check the gravity wall table to see if it needs to be strengthened.
If a geogrid is necessary, check the geogrid charts for an approximate grid length.
4. Determine the overall wall structure:
To get the overall wall setback, use the setback chart.
For the whole wall envelope, add the necessary grid lengths.
Compare the overall wall envelope to the area that is available at the retaining wall site.
Types of Retaining Wall:
1. Gravity Retaining Wall:
 The gravity retaining wall can rely on it to withstand lateral earth pressure in its weight.
Gravity retaining walls are frequently very large since the soil pressure needs to be countered by a large amount of gravity load.
This kind of wall structure must be constructed with care for sliding, overturning, and bearing forces.
Brick, stone, and concrete are just a few of the materials that can be used to construct it.
It is affordable for 3 meters in height.
In addition to gabions, bin retaining walls, and crib retaining walls, there are gravity retaining walls.
2. Crib Retaining Wall:
Gravity barriers include crib retaining walls.
They are made of interlocking pre-cast concrete or wooden individual boxes.
The boxes are loaded with crushed stone or other coarse granular materials to create a construction that drains freely.
Two typical types of crib retaining walls are reinforced precast and timber ones.
It is suitable for supporting planting areas but is not advised for supporting structures or slopes.
3. Gabion Retaining Wall:
Gabion retaining walls are constructed from multi-celled, rectangular wire mesh boxes that are filled with rocks or other suitable materials.
It is used to build structures that control erosion.
Steep slopes are stabilized using it as well.
4. Cantilever Retaining Wall:
Slabs for the stem and base of a cantilever retaining wall.
Precast concrete, prestressed concrete, or reinforced concrete are used in its construction.
The cantilever wall is the most prevalent type of retaining wall.
Either a cantilever retaining wall is constructed on the spot, or precast concrete is manufactured off-site.
The heel and toe of the base slab are the areas that are covered by the backfill material.
Up to a height of 10m, a cantilever retaining wall is cost-effective.
Compared to a gravity wall, it uses less concrete but it still needs careful design and construction.
Similar to a gravity wall, it must be designed to account for sliding, overturning, and bearing pressure.
5. Counter-fort / Buttressed Retaining Wall:
It is a cantilever retaining wall that is reinforced with monolithic counterforts made of the base and rear wall slabs.
The distance between counterforts is roughly equal to or slightly greater than half of their height.
The counterfort walls can be 8 to 12 meters high.
6. Anchored Retaining Wall:
When there is not much room available or a thin retaining wall is needed, the anchored retaining wall is used.
The best choice for loose soil over rocks is an anchored retaining wall.
This kind of retaining wall structure method can be used to build tall retaining walls.
The ends of deep cable rods or wires are packed with concrete to act as anchors before being driven deeply sideways into the earth.
Tiebacks (anchors) provide resistance to pressure from overturning and sliding.
7. Piled Retaining Wall:
The process of building a pile retaining wall involves driving reinforced concrete piles next to one another.
To oppose the force that attempts to push over the wall, piles are driven into an appropriate depth.
It is used in both temporary and ongoing projects.
Piled walls provide highly rigid retaining features that can withstand lateral pressure in deep excavations with hardly any disruption to neighbouring buildings or properties.
Steel sheets are used to construct sheet pile walls into slopes or excavations to the necessary depth, however, they are not highly pressure-resistant.
Sheet pile retaining walls are economical up to a height of 6m.
8. Mechanically Stabilized Earth Retaining Wall:
This retaining wall style is among the most widely used and least expensive.
An earth retaining wall that has been mechanically stabilized is supported by chosen fillings (granular), and reinforcements which may be either metallic strips or plastic meshes to hold together.
The panel, concrete block, and temporary earth retaining walls are examples of MSE retaining wall types.
9. Hybrid Systems:
Hybrid or composite retaining wall systems are retaining wall systems that depend on bulk as well as reinforcement for stability.
10. Concrete retaining wall:
A concrete block retaining wall is the best solution for controlling erosion, eliminating a difficult-to-mow slope, adding a planting bed, or levelling an ideal patio space.
These systems derive in a range of colours and textures and are cost-effective, long-lasting, and simple to install.
Concrete walls are less expensive to build than natural stone barriers.
A concrete retaining wall can typically be built faster than a natural stone since concrete is lighter and easier to work.
Concrete has a wide range of colours and patterns, giving you the freedom to build whatever you prefer.
Both houses and businesses can benefit from the sleek, modern appearance of concrete retaining walls.
11. Rocky retaining walls:
To build a retaining wall that integrates into the surrounding landscape, use rocks and boulders.
An outdoor space with access to the outdoors in the woods is a given for this rustic elevation.
The location, design, and repetition of natural stones and bricks can produce a contemporary look.
Natural stone retaining walls can be a little more expensive alternative when compared to other materials like wood but they are sturdy and offer a timeless appeal.
Examples of stone materials with a classic aesthetic are granite and limestone.
12. Wood retaining walls:
Wood is a common and affordable material for retaining wall.
Due to the fact that wood is an organic substance, it will likely last shorter than alternatives like stone.
Wood retaining walls can last longer if you choose pressure-treated wood and use a wood preservative.
Due to the possibility that the chemicals in treated wood could harm flowers and other vegetation, planting too near the wall should be prevented.
13. Mixing a retaining wall:
Poured concrete walls are made to look less industrial by adding wood elements to the patio deck and furniture.
The natural stone and fine gravel on the exterior area give the impression that it has always been there.
14. Vertical sleepers for small retaining walls:
If you love the look of wood retaining walls, construct a modest, fence-like wall using vertical sleepers.
This wall is perfect for separating the yard's garden portions from the rest of it.
Try with different heights to give the wall structure greater visual mobility.
15. Brick retaining walls:
If you want to give your front or backyard landscaping a touch of class, think about installing a brick retaining wall.
Choose between a natural stone retaining wall that can complement a craftsman-style facade and conventional red brick (which is ideal for colonial-style homes).
16. Stack-tiered retaining walls:
Tiered retaining walls are great for enhancing a hill or slope in your yard and maximizing usable space.
These kinds of walls also increase the design choices for your garden by making a lot more area available for vegetation.
17. Steel retaining walls:
Steel retaining walls give a project a unique appearance, and the rust colour of the materials can give a garden a little extra pop.
This landscaping concept somewhat resembles a farm or other agricultural setting where steel barns and tractors are typical.
For this reason, steel retaining walls might look pleasant if your home is decorated in a rustic manner.
18. Reinforced Earth Retaining Wall:
In this retaining wall, reinforcement has been used for millennia to strengthen the earth.
Straws have been used in the past to strengthen unburned bricks and fascine mattresses to reinforce soft soil deposits before roads were built.
The primary principle at work in reinforced earth walls is that if lengths of a material capable of sustaining stress are embedded inside a mass of soil in the desired direction.
The soil can be given tensile strength in that direction.
There are several geotechnical applications for reinforced earth.
19. Diaphragm Retaining Wall:
Diaphragm walls can be made of sheet piles or reinforced concrete.
A vertical slab of concrete-reinforced concrete that is put into place is part of it.
The lower portion of the wall is held in place by passive and active stresses.
20. Sheet Pile Retaining Wall: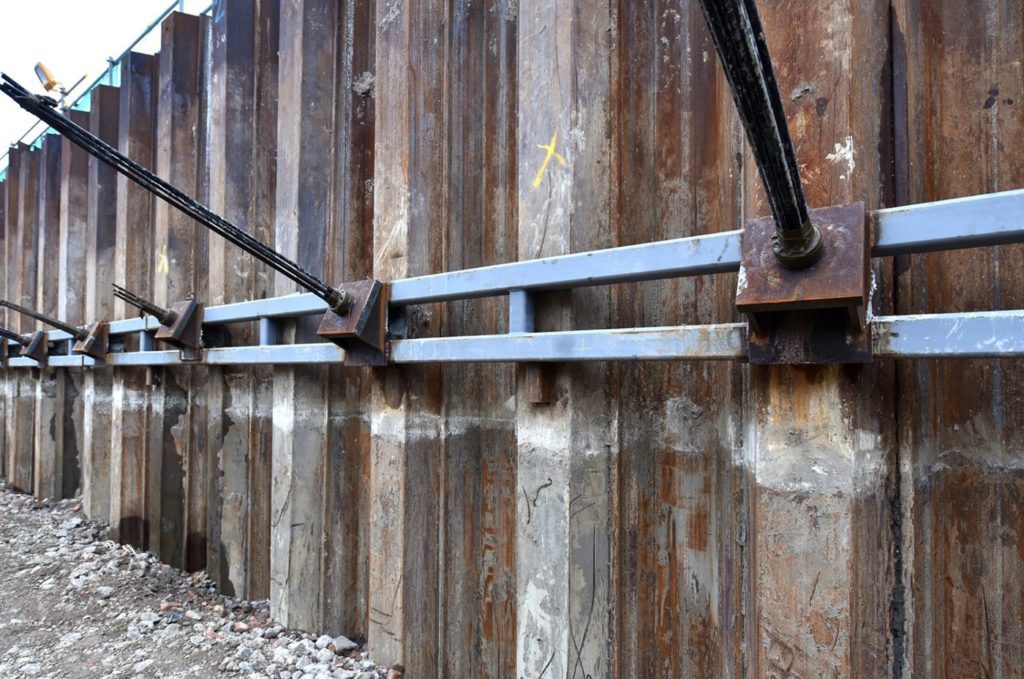 Sheet pile retaining walls are built by interconnecting piles that are each driven into the foundation soil separately.
Steel, wood, or precast concrete components are a few of the materials used to make modern sheet piles.
A Cantilever sheet pile wall may occasionally be kept in place by the active and passive stresses acting on its bottom portion.
Factors To Consider When Building a Retaining Wall:
Experience:
It's crucial to hire a qualified structural engineer for retaining walls.
You must be aware of the engineer's employment history, the length of time required to accomplish wall projects, and some of his large-scale undertakings.
Reputation:
When selecting the best structural engineer, reputation is an important consideration.
You can find out about the structural engineer's reputation by visiting their site.
Consumer service:
Make sure a structural engineer has the highest customer service abilities before hiring them.
Think about a contractor who is eager to promptly address your problems and give you regular updates about your retaining walls.
Material:
The material you decided for construction must be consistent with the purpose for which the wall is to be built.
Codes:
Retaining walls must be built on the best foundation, which must be excavated below the level of the ground.
The deeper the wall will be the deeper you need to dig your base.
Most of the time, retaining walls need to be dug deeper than four feet by a certified structural engineer.
Building codes must be understood before starting to construct a retaining wall.
Sizes:
You should take the geography of your yard into account before installation techniques on your property.
It will help you decide the height and length of your wall.
Time:
You need to have a specific time limit in mind for finishing your job if you want to build your retaining walls efficiently.
The best estimations of the materials, the level of preparation, and the type of structural engineer for the retaining wall you require are made with the aid of specific time frames.
Designs:
If you have the right designs in mind before building retaining walls, your area can be converted into a lovely yard or an eye-catching garden.
Consider adding lovely textures to the wall to accentuate its attractiveness, such as utilizing different rocks to create a mosaic effect or making your walls gracefully curved.
Advantages of Retaining Walls:
1. Prevents soil erosion:
Unsightly mudslides and landslides move rocks and soil to spots where they obstruct your property's key characteristics.
It prevents moisture damage by blocking drainage systems.
Also, weaken the structural integrity of your property.
2. Reduces the chance of flooding:
Constructing a wall that prevents water in its tracks, directing water flow away from your residence or place of business, preventing water from collecting in low areas of your land
3. Minimizes harm to nearby properties:
For injuries that take place on your property, you may be held liable.
Some local governments impose steep fines on property owners who don't keep their property in good condition.
4. Increases the amount of space that can be used:
A huge, flat area can be dug out, and retaining walls can be used to keep dirt and water from seeping into that area.
Various features including patios, outdoor furniture, gardens, and walks can be created out of space.
You can design terraced areas with retaining walls to grow lovely flowers and plants.
5. Enhances beauty:
Your wall can be constructed out of a variety of appealing materials including brick, stone, or ornamental concrete that simulates almost any appearance.
Walls may have ornamental elements like columns, statues, or flower-planting areas.
6. Saves you money:
Retaining walls are useful because they reduce the need for upkeep and clean-ups.
Disadvantages of Retaining Walls:
Certain retaining walls develop vertical fractures in the poured concrete as a result of extreme pressure or temperature fluctuations.
Brick walls cannot bear heavy soil pressure, which might cause foundation failure or brick breakage.
Termites may be drawn to your home if the wall is made of wood.
FAQ- Retaining Wall:
Q1. Which retaining wall construction method is the least expensive?
Poured concrete costs $4.30 per square foot, interlocking concrete block costs $5.65, pressure-treated pine costs $6.15, and stone costs roughly $11.
Supplies like filter cloth or drainage stones are not included.
Q2. What should the burial depth be for retaining walls?
Blocks that are at least half as tall as your first course should be able to be buried in the trench, and they should be supported by a 2- to 3-inch gravel base.
Depending on the size of your blocks, this depth can range from 4 to 6 inches.
The width of a single block should be double that of the trench.
Q3. What is the minimum required height for retaining walls to be engineered?
Most courts require a building permit and a design from a licensed engineer for walls taller than 4 feet (measured from the bottom of the first block to the top of the final block).
Conclusion:
In order to make steep terrain workable, prevent soil erosion, and add aesthetically pleasing or practical landscape features, retaining walls are typically used.
They may be standalone constructions or a component of a bigger building project.
If the wall is higher than one meter next to a road or pathway or higher than two meters elsewhere, planning approval is needed.
Independent, free-standing retaining walls may not be subject to building codes, although all buildings must be sound structurally and well-maintained.
Section Under: Retaining Walls