Due to our modern, fast-paced existence, many people struggle to care for and nurture their plants, hence artificial grass wall design ideas and their use in indoor areas have become very popular.
Go, Green is the mantra of the moment, homes and offices are using artificial grass and indoor plants to create a clean and fresh environment.
The development of artificial grass has changed the way people decorate their homes.
Initially on football grounds and occasionally in rooftop cafes and restaurants, artificial grass has evolved into an important element of interior decoration that incorporates wall designs for both indoor and outdoor living areas.
Artificial grass is widely used in urban areas and big cities where easy home maintenance is required in daily life.
We've compiled several artificial grass wall design ideas in this article to give your house a fresh look.
Why Use Artificial Grass ideas for Home Decoration?
Using artificial grass has various advantages as follows:
First of all, maintaining artificial grass is significantly easier than maintaining real grass.
It stays fresh and green all the time.
It doesn't require regular watering or exposure to the influences of the seasons.
As compared to natural grass, artificial grass is less expensive in the long run to buy and maintain, hence there are countless creative artificial grass wall design ideas to consider if you're looking for home decor on a budget.
As artificial grass is comprised of synthetic materials, both indoor and outdoor installation is simple.
You might think about a range of outdoor artificial grass wall design ideas to spruce up your balcony or patio.
Ideas for Artificial Grass Wall Design:
1. Ideas for artificial grass walls in the bathroom: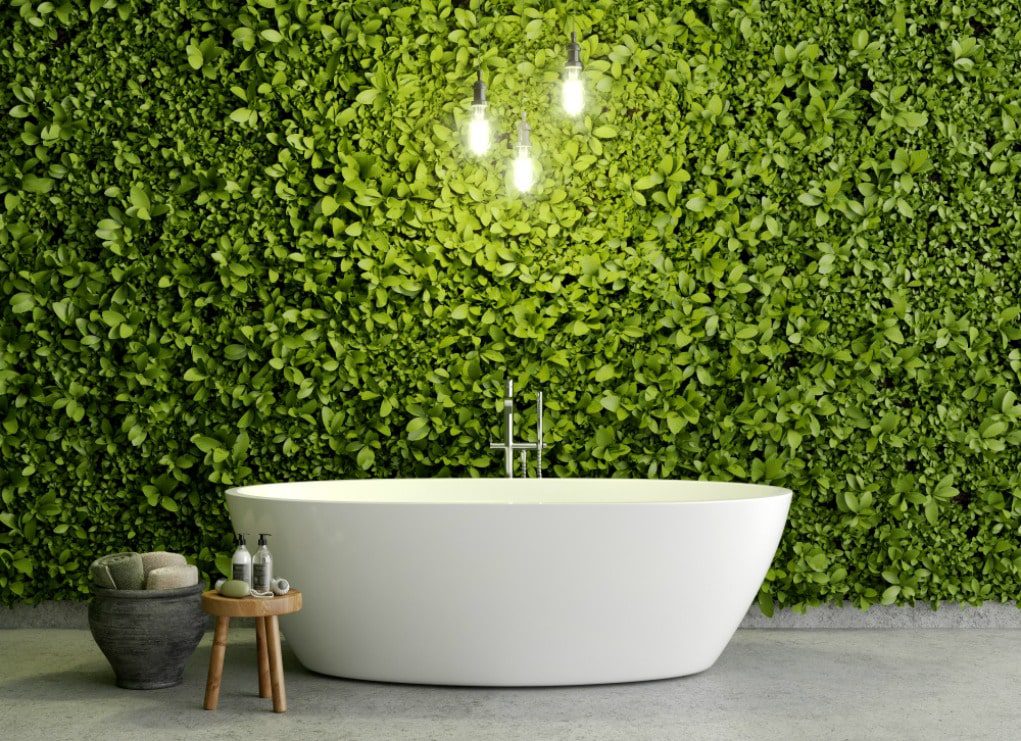 Keeping any type of plant alive in a bathroom is difficult, even if it's an indoor plant.
But, think about using vertical grass as wall art if you truly want to add a sense of nature to your bathroom design.
Normally, the wall opposite the sink has a mirror.
Cover the remaining wall in artificial grass and take a long, hot shower in your bathroom to feel closer to nature.
2. Living room artificial grass wall design ideas: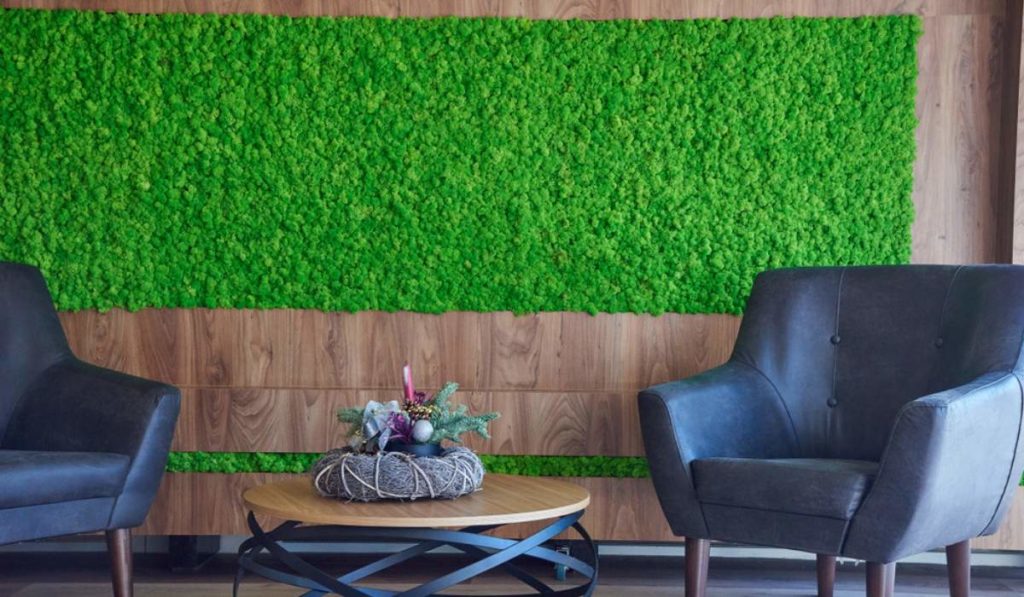 To unwind and relax, the family congregates in the living room.
Therefore, it must be clean and have good natural light.
A great choice for the living room would be to install artificial grass on the wall, especially if the space is large.
Play with two-toned grasses or geometric patterns to bring something different to your home.
Match your sofas to a green wall to create a cosy and relaxing space for you and your family.
3. Home entrance or foyer artificial grass wall design ideas: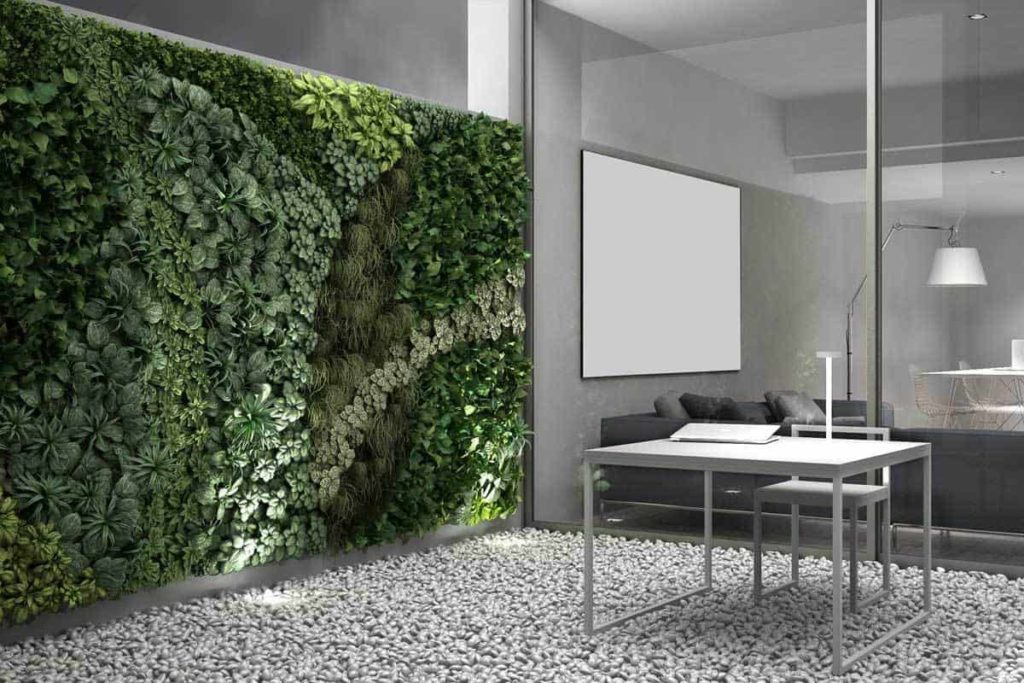 Think about vertical grass wall decor ideas for an entrance or foyer that is uniquely designed.
You can experiment with fusing stained glass with artificial grass for a distinctive appearance.
You will feel nature every time you step into your home and your visitors will feel the green wall as a welcome breath of fresh air.
And you need to place a little wooden seat and storage cabinet against the green wall.
4. Bedroom artificial grass wall design ideas:
A space with a turf wall?
Although it certainly sounds commonplace, your bedroom could assist a vertical strip of light green artificial grass and a few house flowers.
Keep the rest of the bedroom simple so you can enjoy your bed.
5. Vertical grass wall decoration ideas for stairs: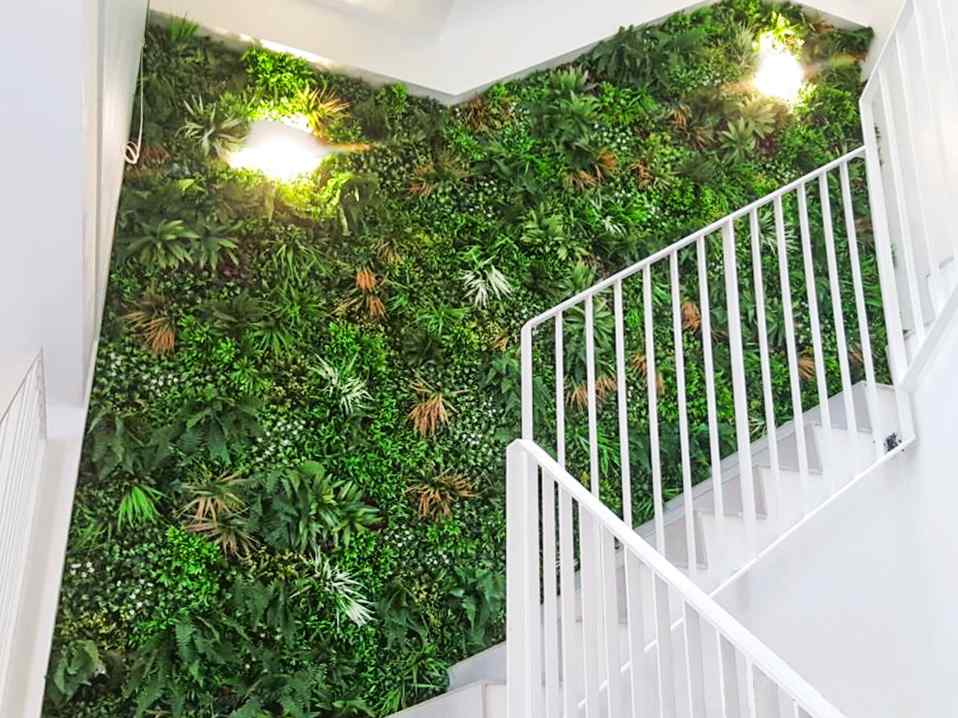 The staircase is a crucial component of your living area if you live in a bungalow or duplex.
This is usually the area of the home that gets the least attention or is seen as the last to be decorated.
Looking for some ideas to decorate the stairs?
You can find some artificial grass wall design inspiration online.
Finish your stairway with wood for a rustic and utterly warm look, and hang two-toned artificial grass on the wall.
Add some family photos to give it a more intimate feel.
6. Balcony or terrace artificial grass wall design ideas: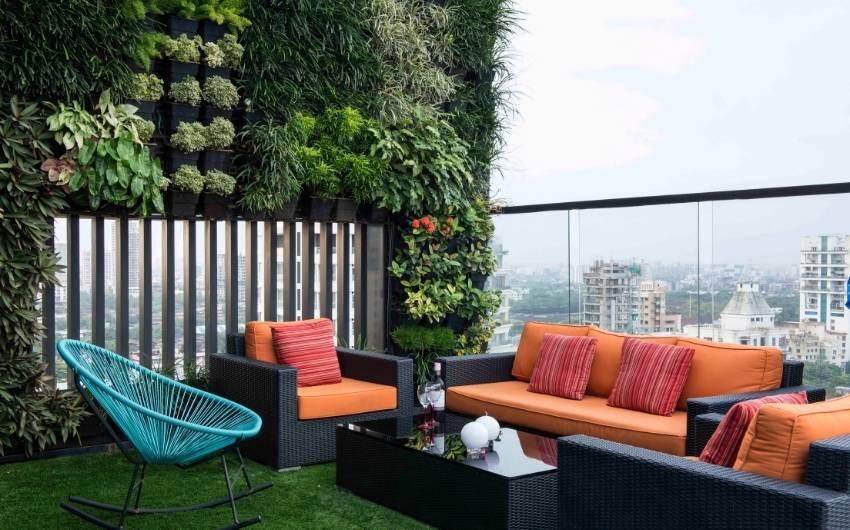 Many homeowners plant a wall or vine to cover their balcony or terrace to create privacy.
Outdoor artificial grass wall design ideas are available for those who don't have the time or desire to care for plants.
In addition to being a lovely aesthetic element, using grass barriers in your outdoor space is a useful trick to keep nosy people.
Your outdoor space will feel more comfortable with an artificial grass wall that provides enough privacy.
Now you can enjoy a quiet evening on the balcony without worrying about the onlookers.
7. A lawn for your kids:
Kids love to play rough that can hurt themselves on the traditional carpet, but fake grass is designed to soften their landings and cushion their falls.
Install a pliable, soft lawn in your child's playroom for hours of active, rough-and-tumble play.
Be prepared for the entire football team to show up at your door.
8. Green stairs:
In our opinion, using fake greenery for decoration is perfectly acceptable, especially if you don't have the time or patience to care for real plants.
Garden steps lined with artificial grass blend wonderfully with the surroundings which can help prevent dangerous slips in slippery conditions by providing a secure footing.
Why is it beneficial to go green architecturally?
Vastu is important when it comes to designing and building a house.
Some architectural principles should be kept in mind while choosing the wall colour as well.
Vastu determines the colour of the furniture and the walls of the home based on the orientation of the building, the type of space, and its intended function.
While decorating your home, using Vastu Shastra's colour advice will not only enhance the design but also attract positive energy.
What is Important about Green Colour?
The green colour is considered healthy and represents nature, this colour allows one to explore and explore one's inner self.
People should fill their homes with lots of green, green is thought to draw positive energy and ward against negative energy.
When researching artificial grass wall design ideas, Vastu advises combining vegetation with an eastward orientation.
The life of an elder child is said to be improved and protected by the decoration of a greenhouse facing east.
It does not face any obstacles and leads a happy and healthy life, while green represents healing and hope.
I hope reading this has motivated you to implement some of these well-liked artificial grass wall design concepts in your house as a way to go green. Get festive!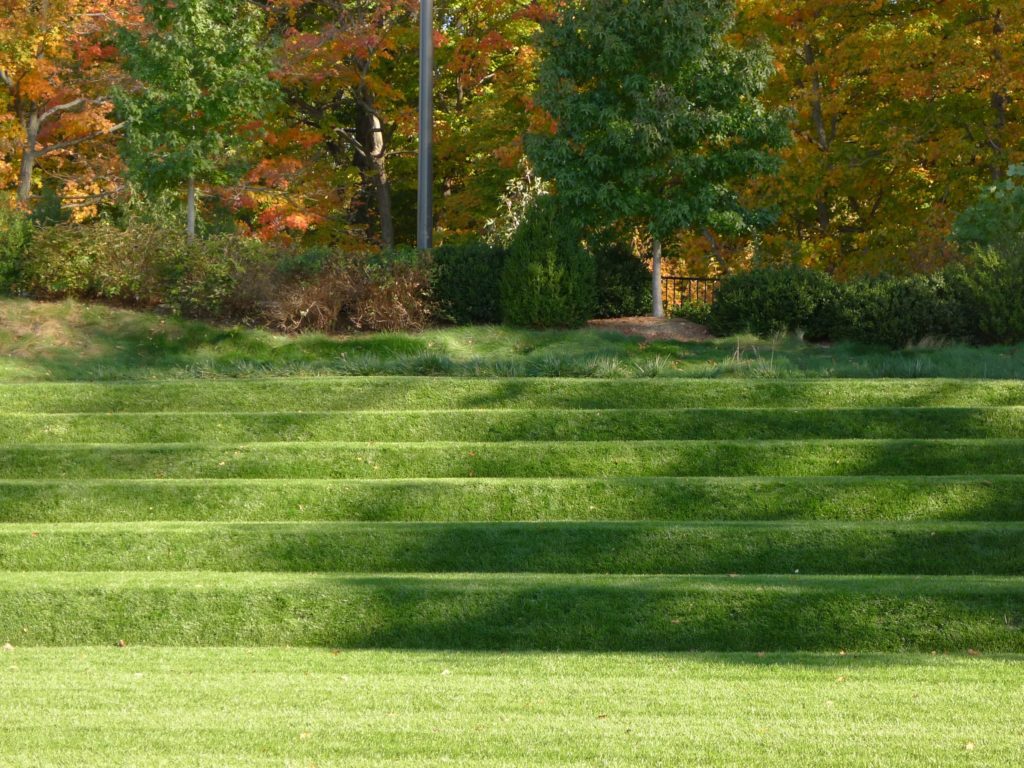 Cost Of Artificial Grass Wall Design:
The cost of an artificial grass wall will be affected by various factors, which you need to know in advance.
Pricing is influenced by the business you choose, the parameters you offer, and the specifics of where the installation will be used.
If you want to create a relaxing environment for yourself, where you can spend time with your loved ones, artificial grass walls are a great choice.
You can use a product for years and save money if you get service from a particular provider.
FAQ- Artificial Grass Wall Design Ideas:
Q1. How to hang a grass rug on the wall?
Immediately attach the rug to the wall by stapling the edges of each piece with a staple gun or hand stapler.
Having a friend, family member, or co-worker nearby can be helpful to ensure accurate alignment.
Q2. Is it true that a grass wall attracts bugs?
Artificial grass barriers do not attract unwanted pests such as rodents, snakes, lizards, insects, fleas, or insects.
Q3. How can you hang grass on the wall without using nails?
Use TSP or rubbing alcohol to clean the area where you will display your outdoor artwork.
Apply double-sided tape to the exterior after cutting your exterior artwork to size.
Once you have removed the backing and firmly installed your outdoor wall art, you are done.
Conclusion:
Artificial grass wall design ideas are universal from the football field to the home field.
Artificial turf is a great alternative to grass wall decoration that can completely change the ambience of a room when it comes to interior design.