Sheet pile wall is retaining walls that are built to hold soil, water, or any other filling material.
These walls are narrower in section than masonry walls.
So, if you're ready to go with a sheet pile retaining wall, this article is for you.
Let's dive right in.
What is Sheet Pile Retaining Wall?
Sheet pile walls are built by embedding prefabricated parts in the earth.
The parts might be able to be vibrated into the ground rather than pounded with a hammer depending on the soil conditions.
By joining the joints of adjacent sheet pile sections in a sequential installation, the whole sheet pile wall is created.
By employing the entire portion, sheet pile walls offer structural resistance.
Even while reinforced concrete sheet piles have also been effectively employed, steel sheet piles are more frequently used in deep excavations.
Types of Sheet Pile Retaining Wall:
1. Timber Sheet Piles: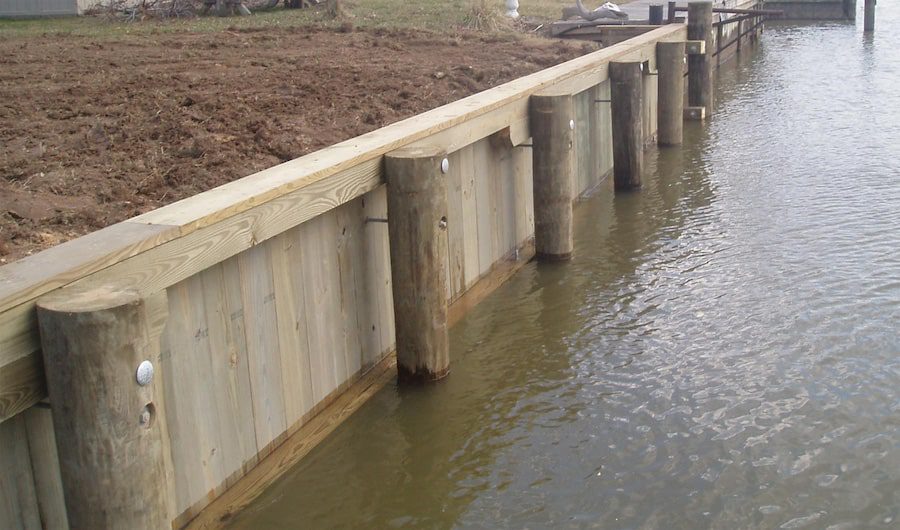 They are commonly used for short spans and lateral loads.
Mostly temporary structures like braced sheeting in cuts employ them.
Timber sheet piles need to be preserved when employed in permanent structures above water, even if their lifespan is still just around a year.
Tongue and grove joints are used to attach timber sheet piles.
Stone-filled soils should not be used with timber sheet piles because the stones will move the joints.
2. Reinforced Concrete Sheet Piles: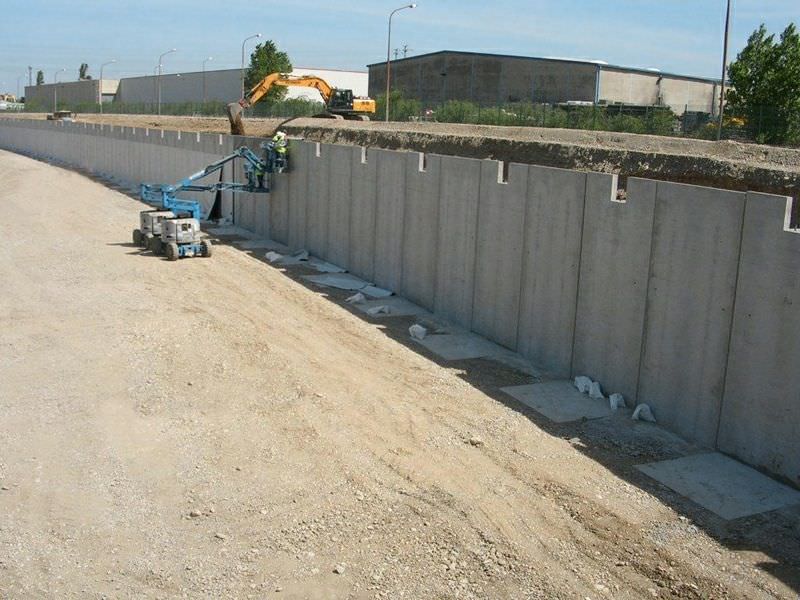 Precast concrete elements known as reinforced concrete sheet piles often have tongue and groove joints.
These heaps are fairly large and heavy.
During driving, they move a lot of solid material, while driving resistance tends to rise with this significant soil movement in volume.
For this reason, adequate reinforcement is offered while taking into account high driving pressures.
3. Steel Sheet Piles: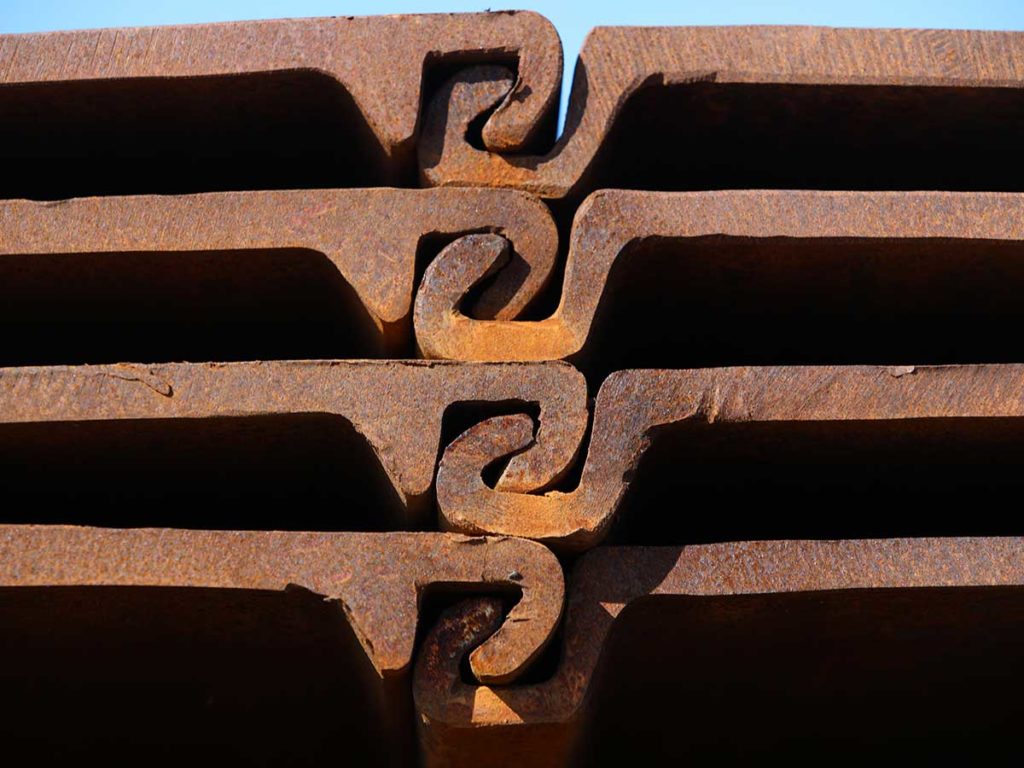 The most popular kind is steel sheet piling.
Over other piles, steel sheet piles provide several advantages as follows:
High driving stresses are not harmful to steel sheet piles. They have a thinner portion.
They can be utilized repeatedly.
They can be used over or in water, and they have a long lifetime.
The provision of suitable joints will allow for a continuous wall.
Either welding or bolting can be used to extend the pile's length.
Sheet pile walls come in a variety of shapes, some of the sections are included below:
To withstand significant bending moments, the arch and Z-piles are used.
Shallow arch piles having a lower section modulus are used for fewer bending moments.
Where the web will be under tension, such as in cellular cofferdams, straight web piles are used.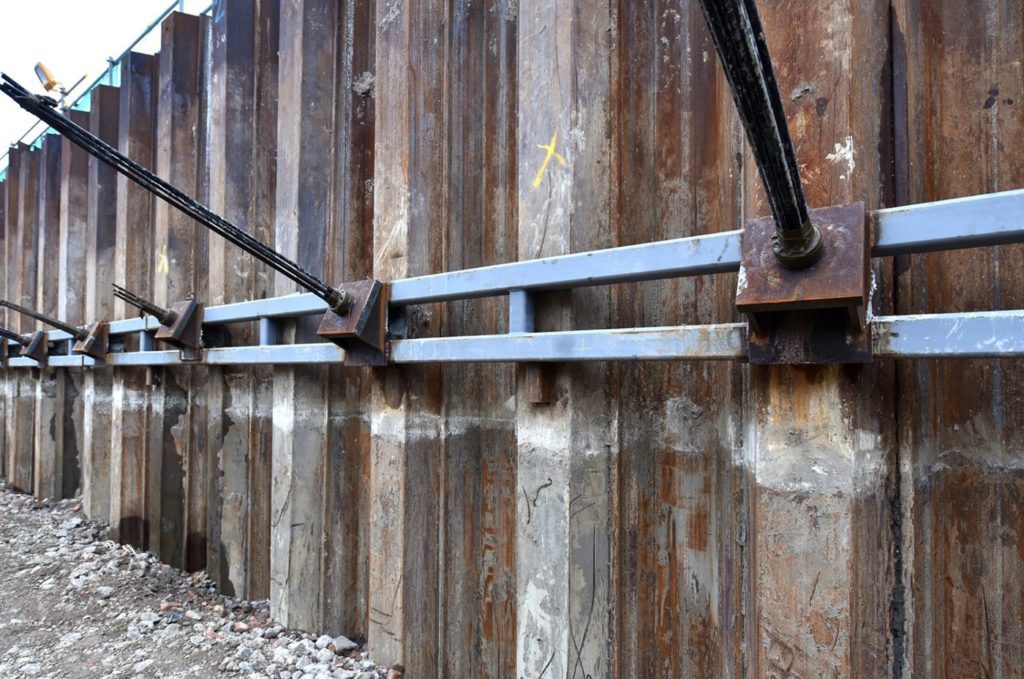 How to build Sheet Pile Retaining Wall?
If the pile stops penetrating the soil, driving should be closely monitored and stopped immediately.
The driver should then proceed to the following row.
In some situations, many adjacent piles may not reach the desired depth.
At this point, an attempt should be made to remove the blockage, either by water jetting or partial excavation.
"Under-driven" sheet piles are permitted, this will vary according to exact design specifications.
Controls that are guided are the most effective.
One method is to drive piles into panels.
At either end of the pile panel, two piles are pitched and driven for partial or full penetration.
Thus, when they are driven into place, the panels are supported by "bookended" piles.
The support for the panel below is then formed by a pair left at the end.
Another method is to use trestles and walling to support and hold sheet piles in position while driving.
Although impact hammers can be used if the soil is very hard or dense, vibratory hammers are frequently used to install sheet piles.
Sheets can be hydraulically moved to selected locations on the floor where vibration is a problem.
The order is as stated:
Backfill earth will be positioned behind the intended construction.
Push the piles of sheets.
The anchor's system was positioned by backfilling the anchor's level.
Backfilling to the wall's height.
The wall's front side should be dredged.
Advantages of Sheet Pile Retaining Wall:
It's both recyclable and reusable.
There are many lengths, dimensions, and steel variations available.
It is appropriate for both permanent and temporary structures.
It is possible to install it in a silent and vibration-free manner.
Faster installation than adjacent or continuous walls.
Cofferdams can be built nearly any way, and they offer a tight-fitting junction that creates a reliable water seal.
Lightweight makes handling and lifting simple.
The pile's length and pattern are simply customizable.
Joints are made to endure the intense pressure required to install them.
Some maintenance is required both above and below the surface.
Disadvantages of Sheet Pile Retaining Wall:
Sections are rarely utilized as permanent structural elements.
Sheet pile installation is challenging in soils with rocks or pebbles.
The sheet pile section and interconnecting components determine the forms of the excavations.
Sheet pile driving might disrupt the neighbourhood.
Vibrations from installations may cause settlements in nearby properties.
Uses of Sheet Walls:
The following are typical uses for sheet pile walls:
Buildings on the water's edge like wharves, quays, and piers.
Constructing cofferdams or other diversion dams.
River bank defence.
Maintaining the edges of earthen cuttings walls with sheet piles can be made of steel, reinforced concrete, or wood.
FAQ- Sheet Pile Retaining Wall:
Q1. What kind of steel is used for sheet piles?
Steel sheet piling consists of box pile sections, it is manufactured in line with BS EN 10248 and contains steel grades S240 GP to S430 GP (yield strengths 240 N/mm2 to 430 N/mm2, respectively).
Q2. How are sheet pilings made?
Sheet piles are lengths of sheet steel with interlocking edges (or clutches) that are hammered into the ground to support excavations and retain dirt.
Although impact hammers can be utilized if the soils are too dense or hard, vibratory hammers are frequently employed to install sheet piles.
Q3. Do sheet piles support the weight?
Sheet piles are short piles that are driven into the ground to either separate members or stop water seepage.
They are built of plates of concrete, wood, or steel to support any vertical loads.
Sheet piles are also known as non-load-bearing piles.
Conclusion:
The sheet pile retaining wall is meant to interlock with one another placed in order around the outside of the planned excavation.
They create a wall for permanent or temporary ground support when used with anchors to add more lateral support.
Section Under: Retaining Walls